Leading cryptocurrency exchange Binance recently announced that it would be delisting its XRPUP and XRPDOWN leveraged tokens on July 25. This announcement came as the US SEC of the United States was suing both Binance and Ripple Labs for allegedly selling unregistered securities.
Users are urged to redeem their tokens using the wallet feature before the indicated date because both leveraged tokens that give users exposure to long or short positions in $XRP will be delisted from the site.
Why Is This Bad News For XRP?
According to the release, if users continue to hold leveraged tokens after they are delisted, Binance will convert them into Tether's USDT stablecoin based on their net asset value at that time.
It's important to note that leveraged tokens give traders the chance to increase their exposure to particular cryptocurrencies like XRP. These leveraged tokens fluctuate in value along with the changes in the price of their underlying cryptocurrency thanks to a complex algorithm that adjusts the leverage of the token in real-time.
This is not the first time this year that Binance has taken decisions to delist tokens. Just a month back, 21 spot trade pairs were taken off the market on May 26, according to Binance. Eight of these trading pairs, notably, are for AUD: Avalanche (AVAX), Axie Infinity (AXS), Polkadot (DOT), Fantom (FTM), Chainlink (LINK), Sandbox (SAND), and Shiba Inu (SHIB).
Users can carry on trading the assets, albeit with an alternative pair, according to Binance. The shift occurs after the exchange lost its banking partner for the AUD on-ramp/off-ramp. Customers were unable to access the PayID payment portal as a result.
What Does This Mean For XRP Price?
It is interesting to note that the delisting occurs as the SEC is suing both Binance and Ripple, two big players in the XRP market, over alleged violations of various securities laws.
The XRP price has been stuck at $0.47 and $0.49 for almost three weeks in a row because of the approaching uncertainty. This month, a group of institutional investors have taken long positions in XRP despite the apparent price standstill. The token price is down by more than 2% in the last 7 days.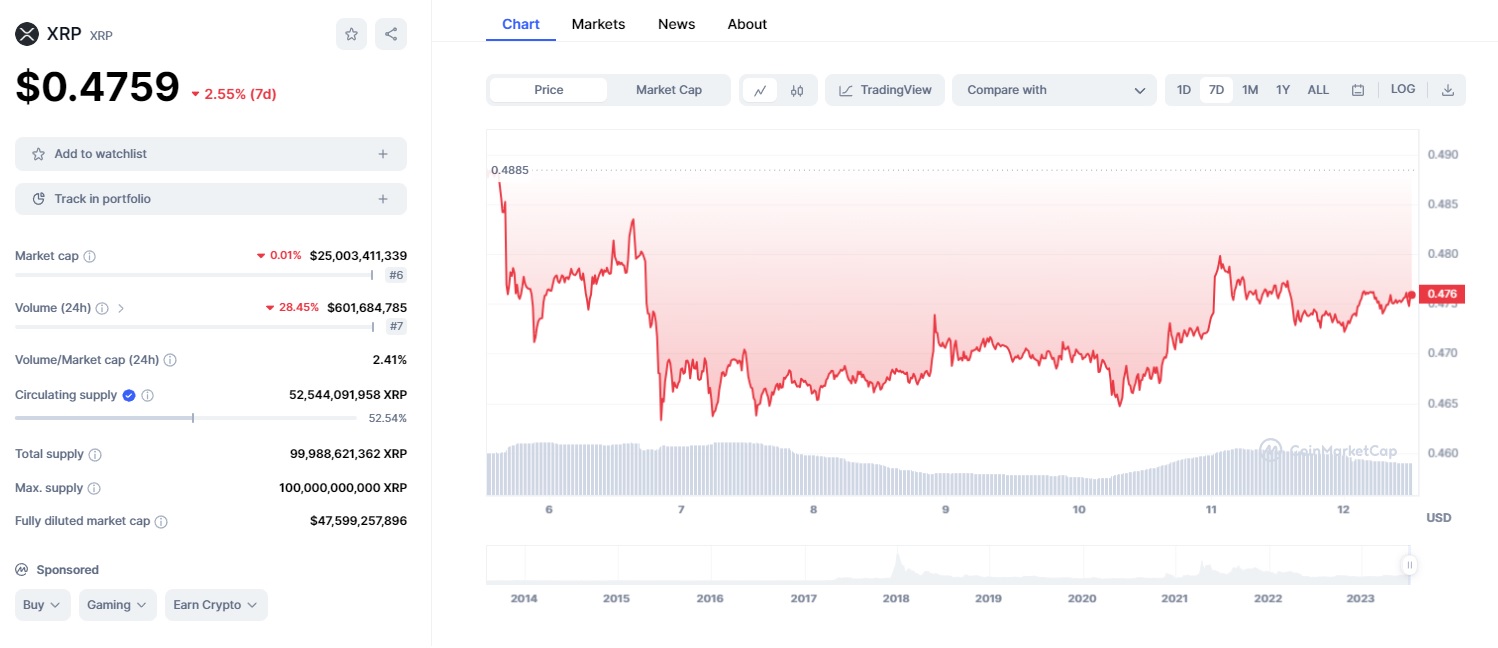 According to Santiment data, whales that own 1 million to 100 million XRP tokens have increased their wallet balances by 170 million coins since the beginning of July.