Bitcoin remained relatively calm after the US Fed's latest interest rate hike, but the past 24 hours brought a minor retracement that pushed the asset back down to just over $29,000.
Most altcoins have also lost some steam today, with DOGE and MATIC losing the most value from the larger caps.
BTC Struggles at $29K
Bitcoin's week started on a negative tone as the asset failed during its Sunday conquest at $30,300. The subsequent rejection pushed it south hard, and BTC found itself dumping to a monthly low at under $29,000 on Monday.
The bulls managed to intervene at this point and didn't allow any further declines. They pushed the cryptocurrency to just over $29,000 as the community prepared for the next US FOMC meeting scheduled for Wednesday.
As many anticipated, the US Federal Reserve increased the key interest rates by 25 bps. Unlike previous such developments, this one had little-to-no effect on BTC right off the bat. It was hours later when the asset added a few hundred dollars but was stopped from challenging $30,000.
The past 24 hours brought some more pain for the bulls as the cryptocurrency fell back down to just over $29,000, where it currently stands. Its market cap has fallen to $565 billion while its dominance over the alts stands still at 48.2% on CMC.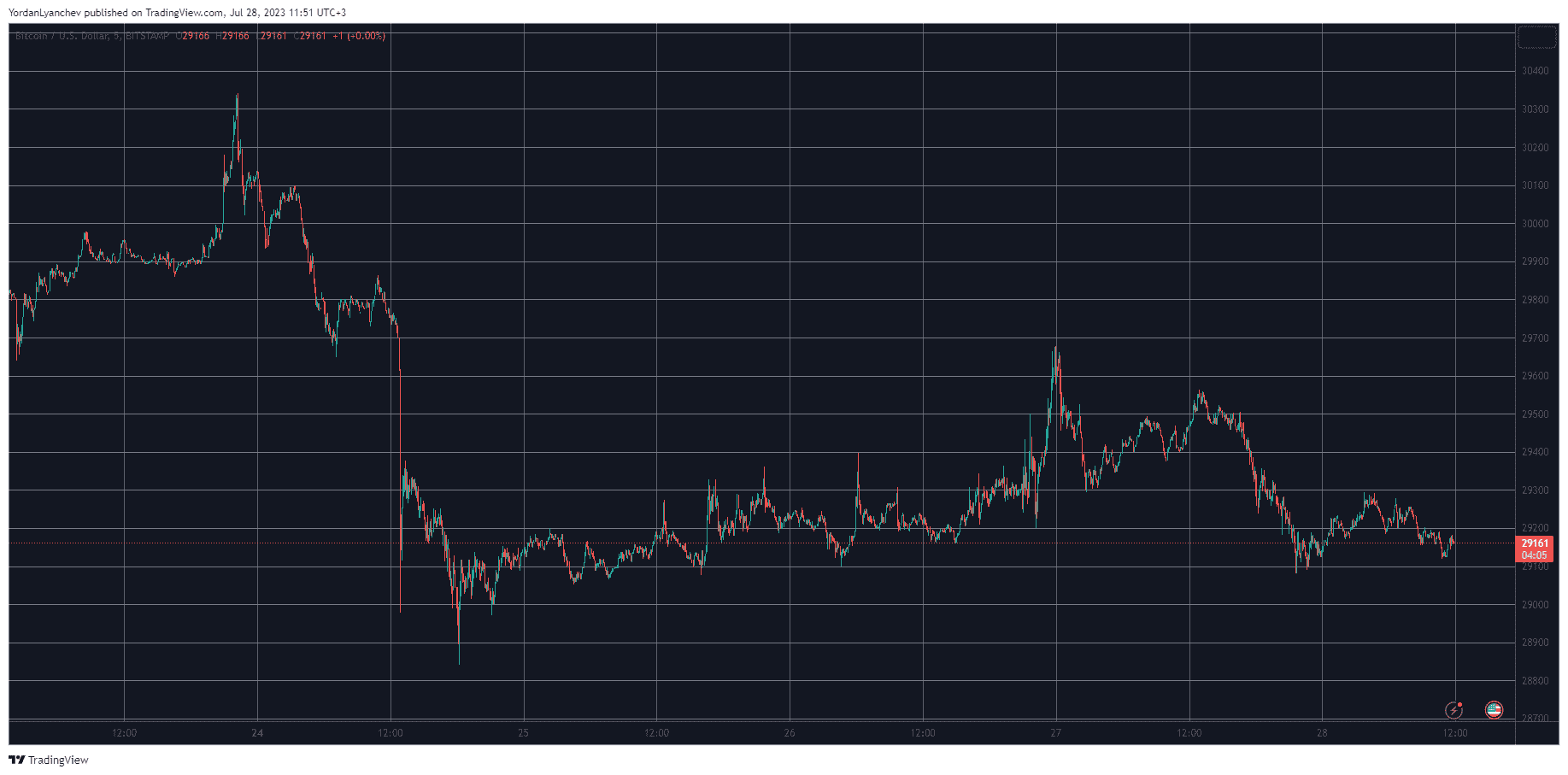 PEPE Down Hard Weekly
Most altcoins are also slightly in the red on a daily scale. Ethereum, Ripple, and Binance Coin have also declined by up to 1% to $1,860, $0.7, and $240, respectively. Cardano and Litecoin have seen similar drops.
Dogecoin and Polygon have retraced the most from the larger-cap alts, as both assets are down by around 3%. SOL, DOT, BCH, and SHIB are also in the red now.
ICP is among the few exceptions on a daily scale, posting a 3% increase that has pushed it to $4.25.
The landscape is quite painful on a weekly scale as well. PEPE, GALA, INJ, and MNT have all dumped by somewhere between 10-15%.
The total crypto market cap has also lost some steam and struggles at $1.180 trillion on CMC.