Following Ripple (XRP)'s victory in court yesterday, there is a general bullish wave currently sweeping across the crypto market. According to data from CoinMarketCap, Cardano (ADA) has gained by 28.43% in the last 24 hours, with several other altcoins also posting double digits gains.
Cardano (ADA) Price Action And Analysis
Prior to its price boost yesterday, ADA had shown little to no movement all week, hovering around the $0.29 price mark. However, the token's price spiked yesterday afternoon, reaching as high as $0.37 for the first time since early June.
Related Reading: XRP Price Retreats After Massive 80% Rally, Buy The Dips?
Looking at its broader performance, Cardano has had a mixed-price action since the start of 2023. The altcoin began the year in style, gaining over 70% to trade at $0.41 as of February 16.
This price surge was, however, followed by a bearish trend bringing the token's price as low as $0.30 on March 10. Thereafter, ADA would resume its bullish trajectory, rising to its highest price so far in 2023 at $0.45 on April 16.
Over the next two months, Cardano's price slumped once again before showing sideways movement over the last three weeks.
Analyzing its 4-Hour Chart, ADA has encountered resistance at the $0.38 price zone and appears to be experiencing a recorrection. However, a rise in selling pressure could result in the token trading as low as $0.28, which marks its imminent support level.
On the other hand, if the bulls retake control and manage to push past the $0.38 resistance price level, ADA is likely to rise to $0.42, which represents the next major resistance level.
At the time of writing, ADA is trading at $0.35 with a 2.30% loss in the last hour. The token's trading volume is up by a stunning 808.08% and is valued at $1.4 billion. With a market cap of $12.3 billion, Cardano is ranked as the 7th biggest cryptocurrency in the world.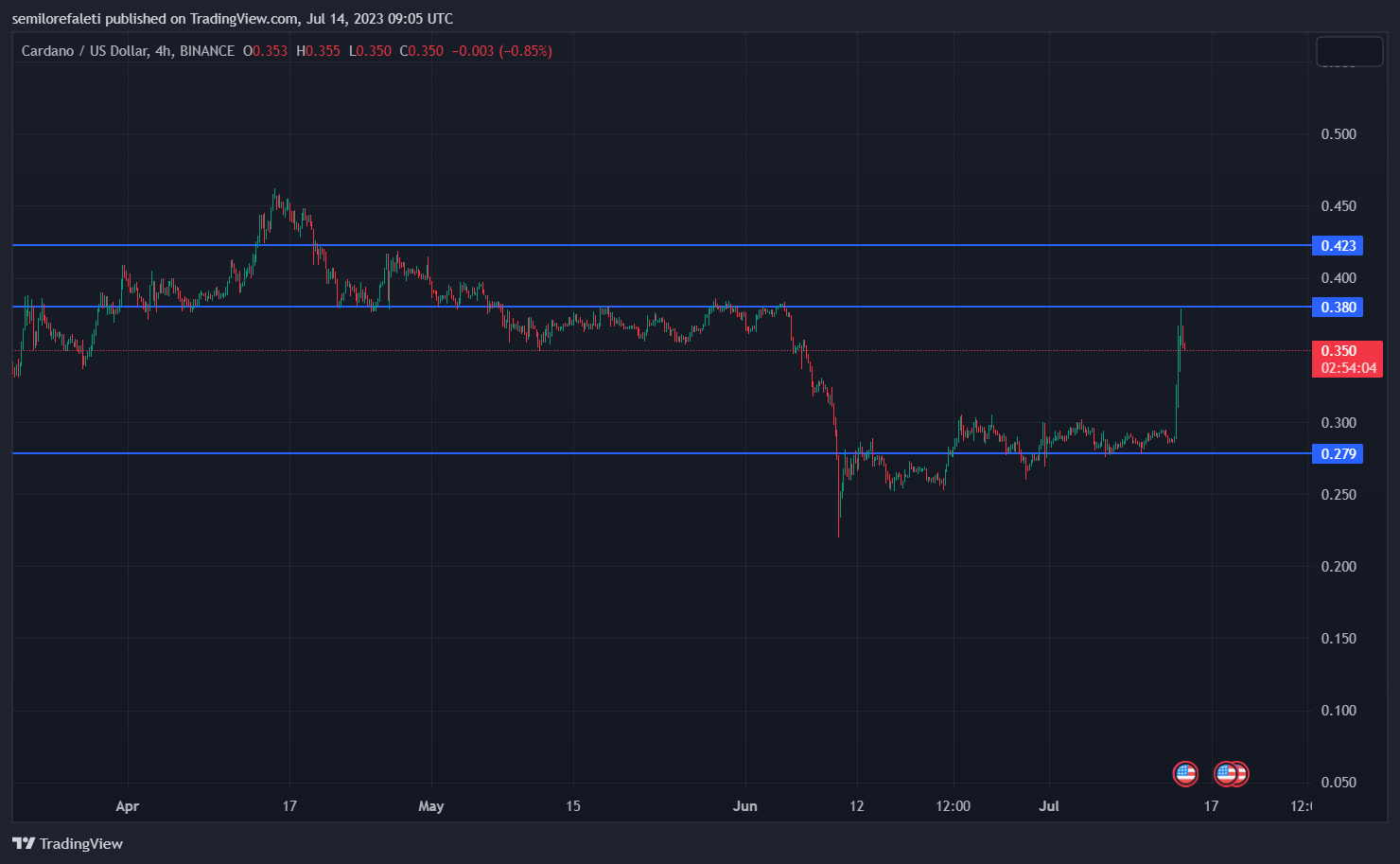 ADA Trading At $0.35 On The 4-Hour Chart| Source: ADAUSD Chart On Tradingview.com
Ripple's Victory Sparks Altcoin Rally
Yesterday afternoon, U.S. Judge Analisa Torres ruled that XRP is not a security in the ongoing Ripple vs. SEC case. On the emergence of this news, the crypto market experienced a price boost, with mainly altcoins notching significant gains.
Asides from Cardano (ADA), coins such as Solana (SOL), Avalanche (AVAX), and Polygon (MATIC), are also on the rise, recording profits at 31.98%, 14.50%, and 17.76%, respectively, in the last 24 hours.
Related Reading: Optimism (OP) Rides The Wave Of Today's Crypto Surge With 15% Rally
That said, the premier cryptocurrency was not left out of the current market surge. Bitcoin has gained by 2.81% in the last day to trade above $31,000 again. At the time of writing, the total crypto market cap is valued at $1.26 trillion, with a 6.39% increase in a single day.
Featured Image From Forbes, Chart From Tradingview.