After a sharp rejection of 12% from last week, Chainlink (LINK) price is continues to struggle below the critical $8 resistance zone. Can the bulls take advantage of the current price action to prevent another major LINK price retracement?
The Chainlink (LINK) price is up 30% in July 2023 so far. Despite a mild retracement last week, long-term investors held firm as they positioned for more gains. On-chain data suggests that the bulls could take full advantage to push for a new 2023 price peak.
Long-Term Chainlink Investors Are Holding Out for More Gains
Despite racking up 30% monthly gains so far, Chainlink long-term appears to be holding out for more. Indicatively, the Age Consumed data compiled by Santiment has shown a significant drop-off in the number of long-term investors selling their LINK tokens.
Decode tomorrow's crypto prices today: Chainlink (LINK) Price Prediction 2023/2025/2030
On July 20, LINK Age Consumed readings spiked toward 627.2 million. But by the close of July 28, it had dropped by 87% to just 100.73 million.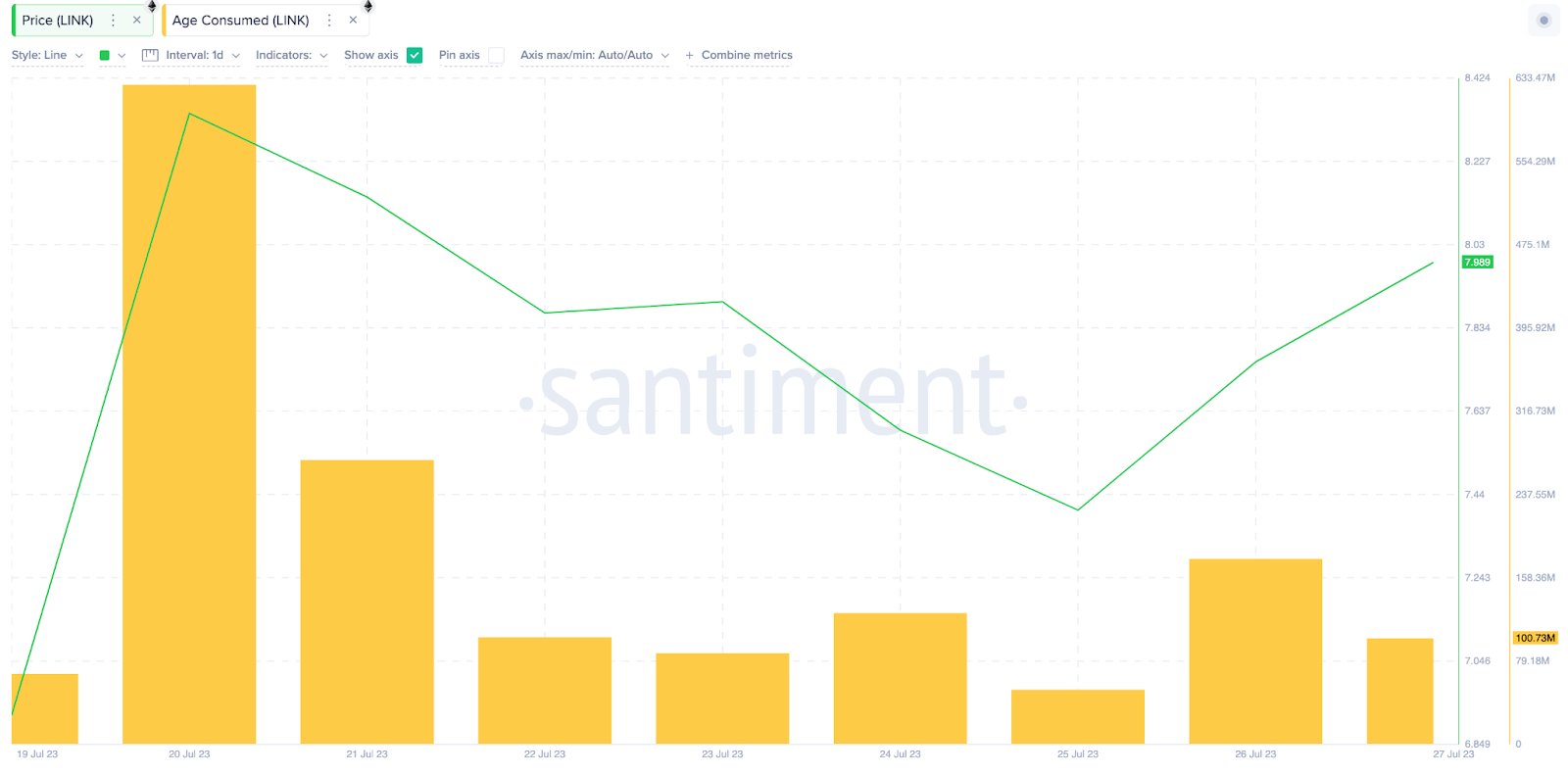 Chainlink (LINK) Bulls Take Advantage | Age Consumed, July 2023. Source: Santiment
Age Consumed is derived by multiplying the number of tokens recently traded by the number of days since they were last moved.
As observed above, a persistent drop in Age Consumed means that investors are increasingly holding on to their tokens much longer. Unsurprisingly, LINK has quickly bounced back this week from its recent 12% price correction.
Read More: Crypto Signals: What Are They and How to Use Them
The Bulls Are Looking to Advantage and Push for a New 2023 Price Peak
Furthermore, bullish Chainlink traders appear determined to avoid another rejection at the $8 mark. In confirmation of this stance, the current data from IntoTheBlock's aggregate exchange order book shows that the bulls have started mounting strategic buy-walls.
As depicted below, the bulls have placed active orders to buy 2.12 million LINK. But currently, there are only 2 million LINK ups for sale.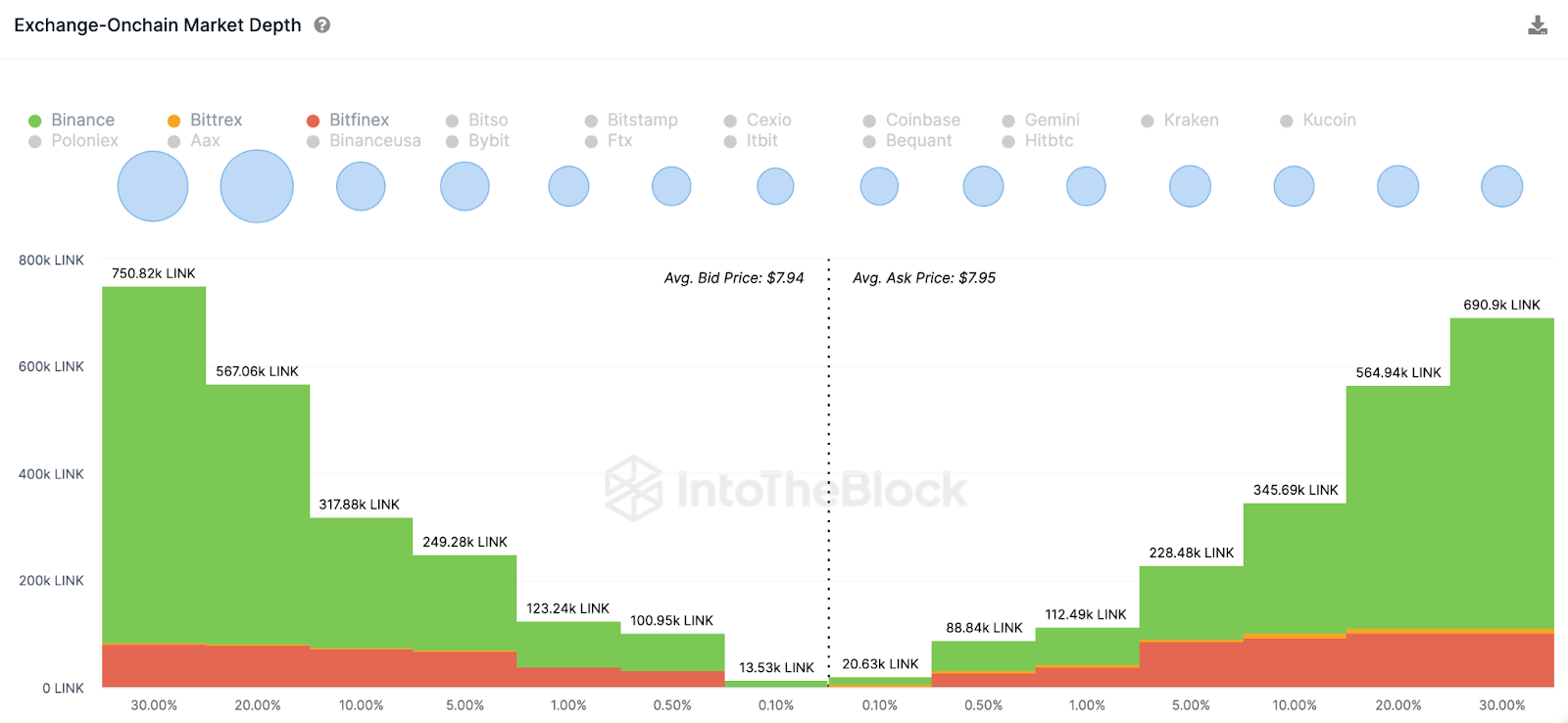 Can Chainlink (LINK) Bulls Take Advantage | Aggregate Exchange Order Books, July 2023 – Source: IntoTheBlock
The Exchange On-chain Market Depth shows the current price distribution of aggregate buy and sell limit orders placed for an asset across crypto exchanges.
As seen above, the momentum between the buy and sell orders is slightly tilted in the bulls' favor. As things stand, demand marginally outpaces supply by 123,000 LINK.
In conclusion, considering the bullish sentiment among the long-term holders, the bulls could take advantage to mount a much higher buy wall in the coming days.
Read More: 9 Best AI Crypto Trading Bots to Maximize Your Profits
LINK Price Prediction: A New 2023 Peak Incoming?
Chainlink's 2023 price peak currently stands at $8.60, achieved on April 19. The on-chain data highlighted above suggests the bulls can push even further toward $9 in the coming weeks.
However, as shown below, 3,800 investors bought 2.34 million LINK around the previous price peak of $8.60. Once the LINK approaches its average purchase price of $8.50, it could sell, inadvertently triggering another price retracement.
But if they continue holding firm as the Age Consumed data trends suggest, LINK could reach $9.

LINK Price Prediction | IOMAP data, July 2023 – Source: IntoTheBlock
Still, the bears could seize the narrative again if LINK drops below $7. However, the 30,260 investors that bought 63 million Chainlink tokens at the average price of $7.04 could offer bullish support.
But if that support level cannot hold, LINK could drop as far as $6.50.