The digital currency ecosystem is currently slipping off into the bearish zone with formidable altcoin momentum. Among the top drivers of the bullish momentum is the industry's first-ever meme coin, Dogecoin (DOGE). At the time of writing, Dogecoin joined the uptrend, with 10.18% growth in the past 24 hours amid a growing push to pare off its losses over the past week.
Dogecoin has become a remarkable digital currency and is being embraced by individuals and companies as a means of value exchange. Despite most governments not recognizing crypto as legal tender, companies like Tesla Inc have accepted digital currency and still continue to support the top altcoin.
Dogecoin is changing hands at a price of $0.07494, a figure that has, by now, slightly edged past its earlier one-month high of $0.07318.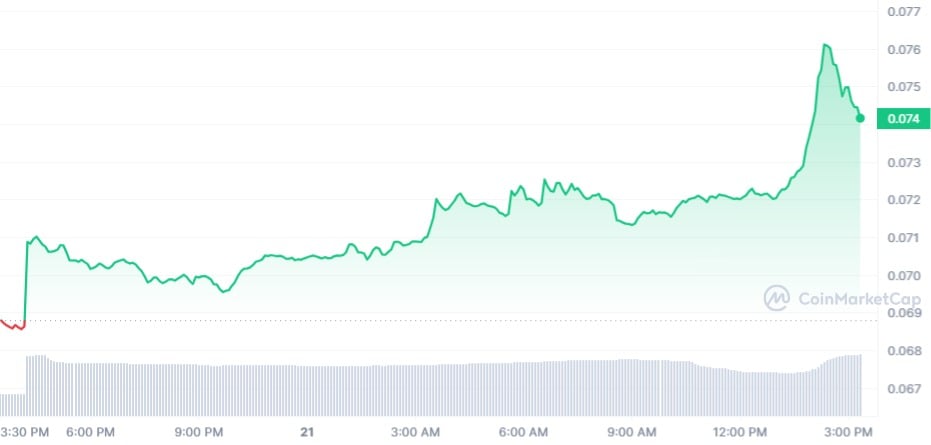 Earlier, a U.Today report detailed how Elon Musk's electric vehicle manufacturing company, Tesla Inc, retained Dogecoin (DOGE) as a means of payment while shunning Bitcoin. This push was showcased when earlier reports had it that the company mentioned Bitcoin in its source code, then removed it, but retained that of Dogecoin.
Elon Musk affair
Arguably, Elon Musk's influence is one of the top growth triggers for Dogecoin (DOEG) and, by extension, the series of Shiba Inu-themed meme coins around today. Retaining Dogecoin in Tesla's source code is akin to the move made by the billionaire when he made Dogecoin the logo of Twitter earlier this year.
These shows of solidarity are considered an endorsement by many members of the DOGE community and served as a buy signal for many who went on a buying rampage. Overall, Dogecoin maintains healthy volatility that has helped it retain its position as the biggest meme coin and the eighth largest digital currency.