Data from the market intelligence platform Santiment suggests that Ethereum (ETH) could see a price bounce soon. According to a Twitter post shared by the platform earlier today, it seems like ETH is one of the top cap cryptocurrencies that traders are getting impatient with at the moment.
🫡 #Ethereum is currently sitting at $1,700, and $ETH is standing out amongst top caps as the asset traders are growing most impatient with. Historically, when we see wallets disposing of their coins at lower values, price bounce likelihoods increase. https://t.co/Qm08sxge6x pic.twitter.com/SM7eoze8dI— Santiment (@santimentfeed) August 31, 2023
ETH is seeing increased amounts of transactions where addresses are selling tokens at lower prices than when obtained, according to Santiment. Furthermore, the post also explained that, historically, when wallets are disposing of their coins at lower prices, a price bounce is likely for ETH.
The leading altcoin experienced a price reduction alongside various other cryptocurrencies during the market downturn preceding the resurgence in optimism surrounding the Grayscale vs. SEC situation. Based on data from CoinMarketCap, the price of ETH witnessed a decrease of 0.60% over the last 24 hours of trading.
Consequently, ETH was valued at $1,706.01, positioning it slightly closer to its daily low of $1,697.15 than its peak of $1,721.62 within the 24-hour period. Furthermore, the trading volume for ETH during this 24-hour period reached approximately $4,475,806,254 at press time, signifying a decline of over 60% compared to the previous day.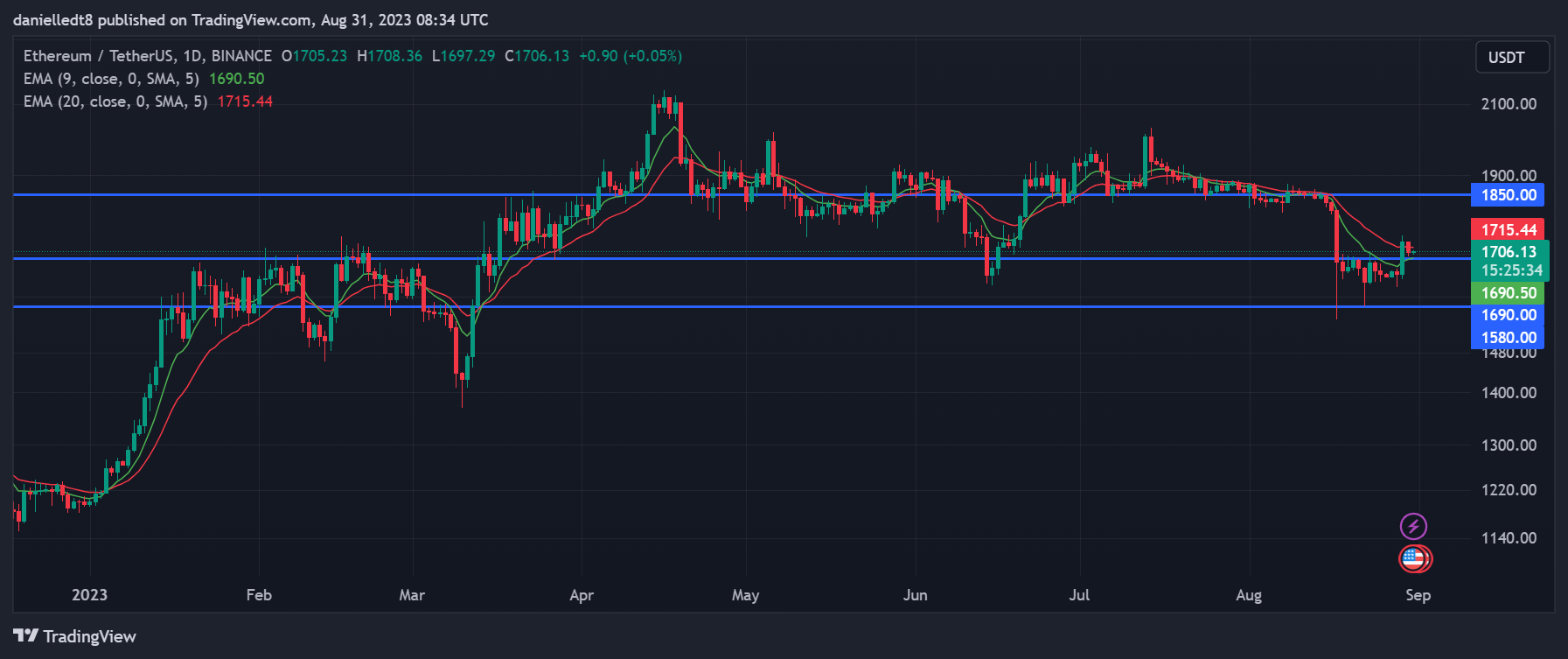 Daily chart for ETH/USDT (Source: TradingView)
From a technical point of view, ETH was trading between the 9-day and 20-day EMA lines on its daily chart. If it is able to close a daily candle above the 20 EMA line at around $1,715.42 within the next 48 hours, then it may continue to rise to $1,850 in the following week.
However, a break below the $1,690 support level over the upcoming 48 hours will invalidate the bullish thesis. In this situation, the leading altcoin's price could be at risk of plummeting back down to the crucial support level at $1,580 in the next few days.
Disclaimer: The views and opinions, as well as all the information shared in this price analysis, are published in good faith. Readers must do their own research and due diligence. Any action taken by the reader is strictly at their own risk. Coin Edition and its affiliates will not be held liable for any direct or indirect damage or loss.