The crypto market tracking website, CoinMarketCap, indicated that Pepe (PEPE) occupied the top spot on its trending list at press time. This came after the meme coin saw its price drop by more than 6%. As a result, PEPE was trading hands at $0.000001465. Despite the 24-hour loss, PEPE may still challenge a major resistance level in the next 48 hours.
The crypto's latest price drop pushed its weekly performance even further into the red at -9.87%. Nevertheless, PEPE's 30-day performance was still firmly set in the green zone at +57.27%.
Furthermore, PEPE's 24-hour trading volume increased by more than 26% throughout the past day, which left it standing at around $96.66 million. Ever since PEPE was able to reach its all-time high of $0.000004354 in May of 2023, the price of the meme coin has slipped by more than 66% to trade at its current level.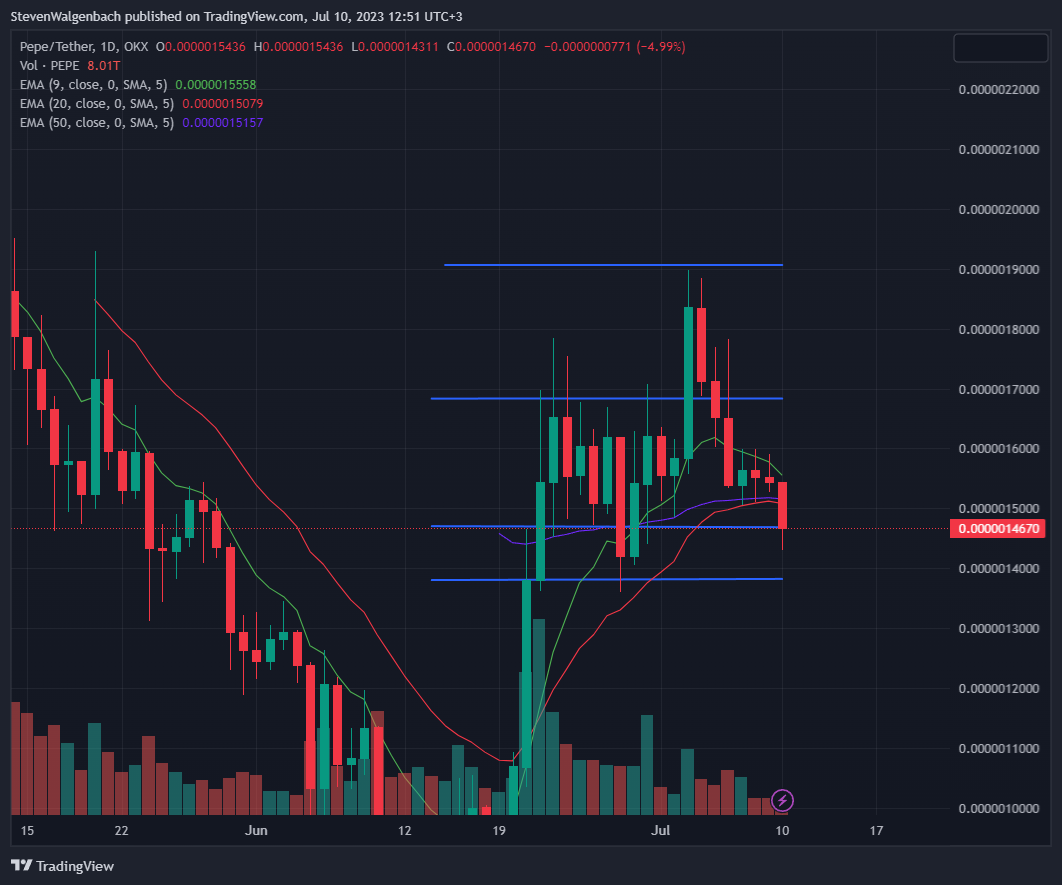 Daily chart for PEPE/USDT (Source: TradingView)
The meme coin's price was resting on a crucial support level at $0.0000014721 at press time. The altcoin did drop below the key price point earlier in today's trading session, but bulls stepped in to support PEPE's price and push it back above the mark.
If the meme coin closes today's trading session above $0.0000014721, then it may attempt to challenge the resistance level at $0.0000016852 in the next 24-48 hours. Continued buy pressure may elevate PEPE's price to as high as $0.0000019075 in the coming week.
Conversely, a daily close below $0.0000014721 today may put PEPE at risk of falling to $0.0000013821 in the following few days. Traders and investors will want to keep an eye on the 9-day EMA line, as the technical indicator was on the verge of crossing below the 50-day EMA line.
Should this cross happen, PEPE will enter into a medium-term bearish trend which may result in its price dropping to as low as $0.0000012939 in the next week. A daily close above the 9-day EMA line at around $0.0000016062 will invalidate this bearish thesis.
Disclaimer: The views and opinions, as well as all the information shared in this price analysis, are published in good faith. Readers must do their own research and due diligence. Any action taken by the reader is strictly at their own risk. Coin Edition and its affiliates will not be held liable for any direct or indirect damage or loss.